Decent photo editing will transform your snaps – and that's true for everyone, whether you're a professional photographer or just someone who wants to touch up holiday pictures. And if you want to do a good job, you'll need one of the best laptops for photo editing.
There's plenty to think about when it comes to picking a photo editing laptop. Any new notebook needs a processor that has the single-threaded speed to pelt through Photoshop workloads alongside the cores to tackle multitasking.
The considerations don't stop there. You'll need enough memory to handle all of those filters and edits and a large SSD to store your snaps. It's nice to have a great graphics card for video workloads and after-hours gaming, too.
Of course, you'll want a top-quality screen to render photos accurately, too, and it's imperative that your next laptop has a satisfying keyboard and all the ports you'll likely need. And that's not all: you've also got to think about battery life, size, and weight, and then factor price into the consideration too.
It's a daunting prospect for anyone who isn't up to date with the latest tech, which is why we've picked out ten of the best photo editing laptops – and explained exactly what makes them so good.
Alternatively, you might want to have a look at the best laptops for coding and programming as they're quite powerful too. However, if you're after more of an all-rounder, then check out our best laptops for students.
Best laptops for photo editing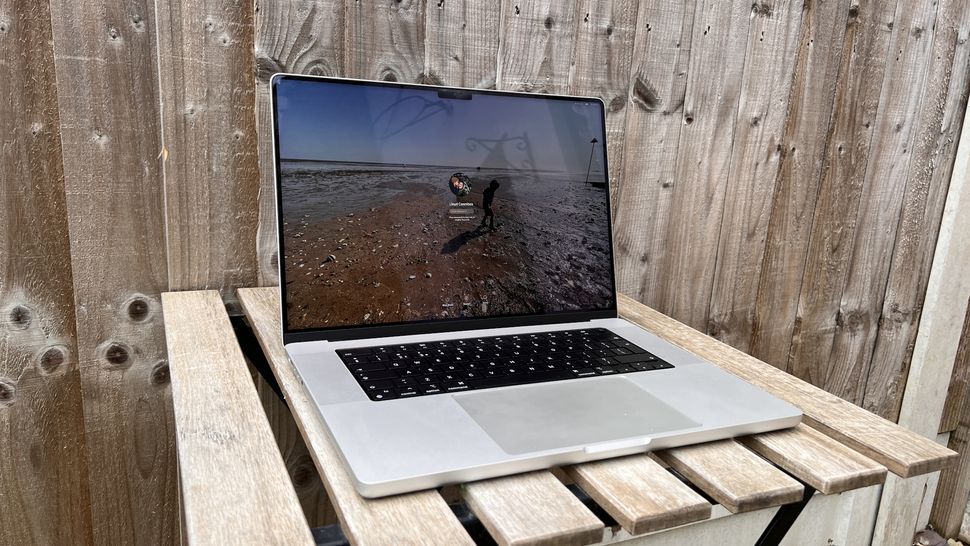 There are plenty of good reasons why photographers, editors, and other creatives rely on Apple laptops, and the latest MacBook Pro 16 remains an incredible option for any kind of photo editing task.
The Apple M1 Pro and Max processors are superb chips, and the rest of the specification is well-suited to creative workloads. The MacBook comes with 16 GB or 32 GB of memory, large storage capacities, and a battery that lasts all day. The only photo editing tasks you won't handle are the kind of workloads that demand a desktop workstation.
The fantastic Liquid Retina XDR display has sensational quality and a crisp resolution, and it nails the sRGB and DCI-P3 gamuts. This means you've got the accuracy and ability to handle most photo editing tasks.
Beyond the superb screen and components there's also a crisp, comfortable keyboard, an SD card slot, three Thunderbolt ports, and a chassis that combines great build quality with familiar style.
Downsides are minimal. The MacBook is slightly heavier than other laptops, and you don't get an HDMI output. It's expensive, too: the cheapest models cost $2,499 (opens in new tab)/£2,699 (opens in new tab), we reviewed a rig that arrived at $2,899/£2,799 and prices easily soar past $3,000/£3,000.
If you've got cash to splash, though, the MacBook Pro 16 offers unparalleled power, quality, and consistency – it'll scythe through your photo editing tasks for years to come.
---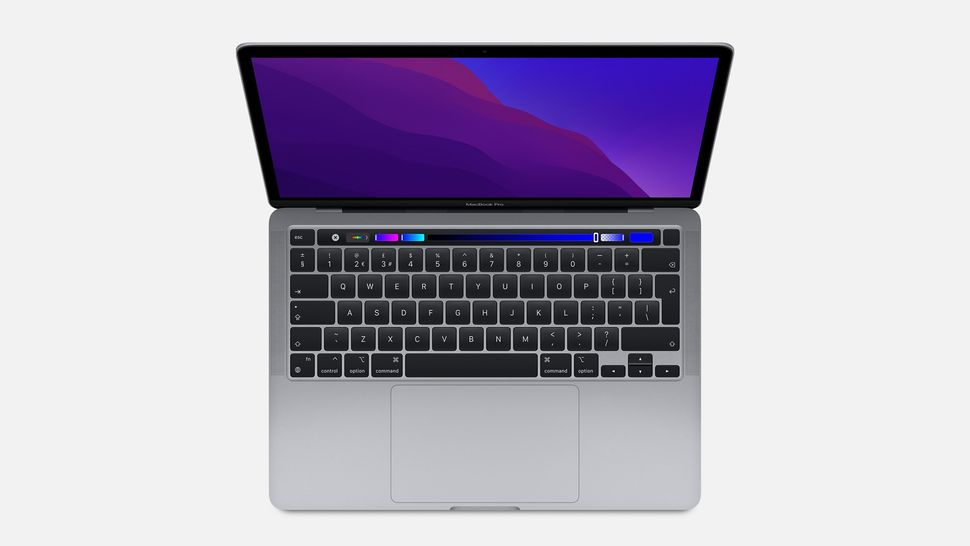 The MacBook Pro 16 might be the best overall choice for photo editing, but there's no denying that the Apple MacBook Pro 13 is great if you'd like something smaller.
At just 3 lbs (1.4 kg) in weight and with tiny dimensions, it's easy to sling into a bag and the robust aluminum chassis happily handles commuter life. And don't worry about missing out on power, either: the MacBook Pro 13 uses Apple M2 processors, which handle almost every photo editing task except those where you need proper desktop grunt. Indeed, Apple's own tests show that the M2 is several times faster than the M1 chip in creative workloads.
Multitasking, encoding, and web-browsing are no issue here, either. Elsewhere you've got 15-hour battery life, a crisp keyboard, and the customizable touch bar.
As with larger Apple notebooks, the Retina display delivers DCI-P3 wide-color abilities alongside great color and high resolutions, so photos look superb.
Negatively, this smaller MacBook only has two Thunderbolt ports, and it doesn't have an SD card slot, so creatives may struggle with importing photos or attaching peripherals. You also can't get this laptop with 32 GB of memory.
The MacBook's small size and limited connectivity mean that it's not necessarily a great choice for a main machine, but it's a fantastic companion for working on the move. And when prices start at $1,499 (opens in new tab)/£1,549 (opens in new tab) for a 16 GB version, it won't break the bank either.
---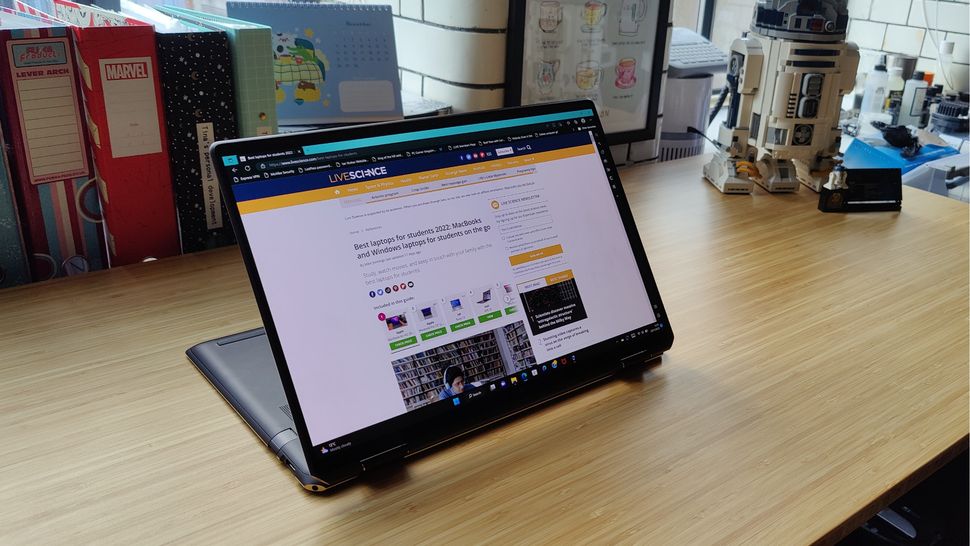 There's no denying that the HP Spectre x360 16 looks fantastic thanks to its sleek alloy exterior, but this laptop isn't just about looks – it's a great photo editing notebook too.
The screen has no weaknesses. Its resolution is crisp, quality levels are high thanks to the vibrant OLED internals, and it's a touchscreen. Combine that with convertible design and you've got a rig that's ideal for any creative task.
Around the chassis you'll find Thunderbolt 4 ports, a full-size USB socket, an HDMI 2.1 output, and a superb 5mp webcam. It has a fingerprint reader, too, and a microSD card slot – although creatives may prefer full-size SD. The battery lasts for a full day, and the Spectre's 4.4 lbs (2 kg) weight is impressive for a 16 in notebook. The keyboard is also excellent.
Inside, the latest HP is available with an Intel i7-12700H processor. It's a fine chip for tricky photo editing tasks, although certain Apple CPUs and Intel Core i9 parts are faster.
Older models of this notebook are sold with the i7-1260P – avoid that weaker CPU – and remember that Intel's Iris Xe cores can't compete with Nvidia. But those compromises are acceptable when the HP arrives at $1,649.99 (opens in new tab)/£1,599.98 (opens in new tab) and some rivals cost more than $3,000/£2,000.
You'll certainly find more power elsewhere, but few can compete with the HP when it comes to versatility. Look no further if you want a big-screen device that straddles the laptop and tablet worlds.
---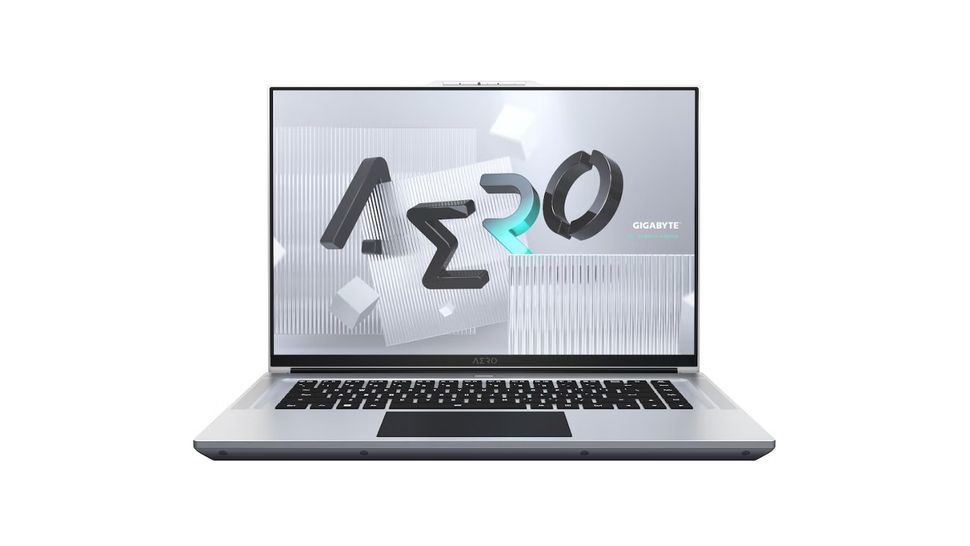 With an aluminum-alloy body that weighs more than 5.07 lbs (2.3 kg), there's no denying that the Gigabyte Aero 16 is a heavyweight contender – but there's plenty to like here.
The 16 in display deploys AMOLED technology, a 16:10 aspect ratio and a 3840 x 2400 resolution, so you've got loads of space and sharp rendering. Quality levels are high, too, because it nails the sRGB, DCI-P3, and Adobe RGB color gamuts.
Internally, the Core i7-12700H is available if you'd like a laptop to handle any mainstream photo editing task, while the i9-12900HK is a more powerful option for desktop-level creative workloads. And while Nvidia GeForce RTX 3070 Ti and RTX 3080 Ti cores are overkill for photo editing, they're perfect for after-hours gaming and tricky encoding workloads.
The chassis has a satisfying keyboard, a great trackpad, and enviable build quality, but its connectivity disappoints: you don't get a card reader or full-size USB ports unless you add an adapter. Don't expect great battery life, either – you'll barely make it to lunchtime due to the powerful components and power-hungry display.
The Aero's pricing situation can vary massively, too. The Core i7 model costs $2,349.99 (opens in new tab)/£2,249.97 (opens in new tab), while the Core i9 rig arrives at a lofty $3,999 (opens in new tab)/£4,299 (opens in new tab). The former offers reasonable value given the screen and internals, but the latter is only worth buying if it's discounted.
Gigabyte's rig doesn't tick every box, but it pairs one of the laptop world's best screens with huge processing power. If you can cope with its weaknesses, it's a photo editing powerhouse.
---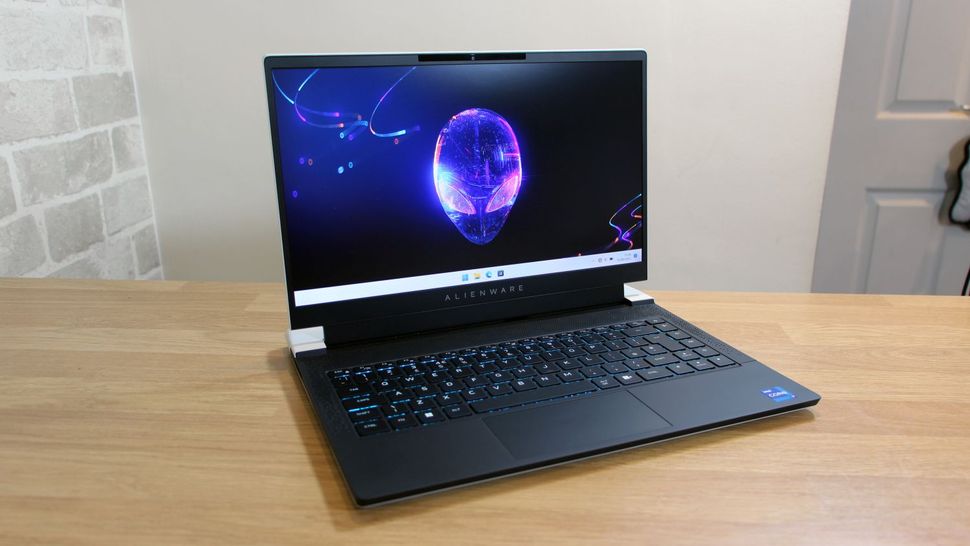 You might not consider one of the best laptops for gaming for photo editing, but there are plenty of reasons to opt for a laptop like the Alienware x14.
The Intel Core i5-12500H and Core i7-12700H are both excellent – the former chip is ideal for mainstream workloads and the latter is well-suited to tougher tasks. Nvidia's GPUs deliver good creative power and gaming ability, and the x14 is available with 16 GB or 32 GB of memory and decent SSDs.
This laptop has a crisp keyboard, Thunderbolt 4 ports, full-size USB connectors, and a microSD card slot, plus it's got a decent webcam. It weighs just 3.94 lbs (1.79 kg) and it's only 0.57 in (14.5 mm) thick, so it takes up hardly any space.
However, you will have to make some comprises here. While larger notebooks will be faster, there's no full-size SD card slot or fingerprint reader. You'll also only get five hours of battery life from this laptop – a common problem with gaming laptops. And while the screen offers decent quality, the 1080p resolution and lack of high gamut ability mean it's only suitable for mainstream photo editing work.
It's not always the cheapest, either. You'll have to fork out $1,299.99 (opens in new tab)/£1,298.99 (opens in new tab) for a Core i5 rig and $1,399.99 (opens in new tab)/£1,433.78 (opens in new tab) for a Core i7 rig, which is a relatively high price considering the modest display and battery. And while U.S. buyers can pay at least $2,049.99 (opens in new tab) for an Alienware x14 with 32 GB of memory, that option isn't currently available in the U.K.
The relative lack of display quality and modest battery life means that this gaming laptop isn't suitable for the most demanding workloads, but its size and connectivity make it a great option if you'd like a small, light Windows machine for editing on the move.
---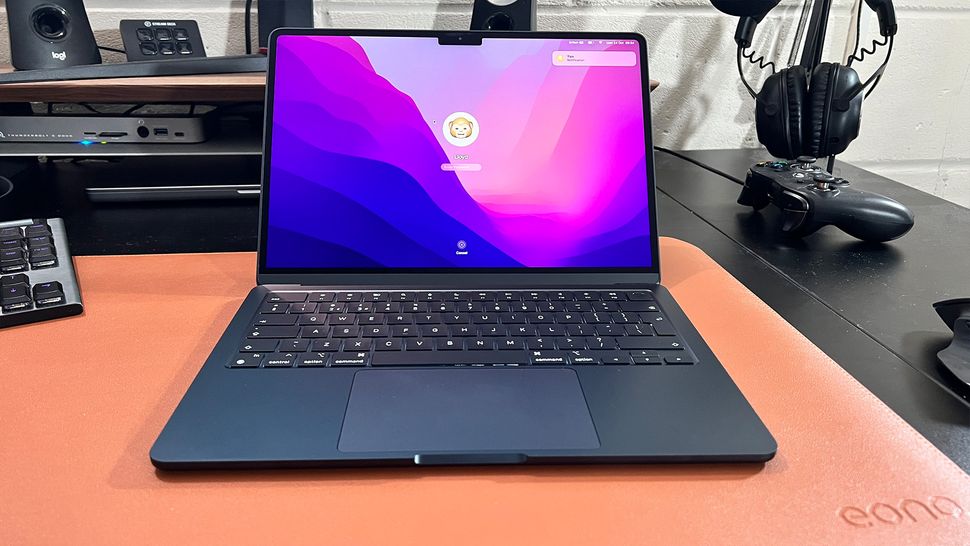 If you're searching for the slimmest and lightest photo editing laptop on the market, then don't look beyond the MacBook Air. At just 2.7 lbs (1.24 kg) in weight you'll never notice it in your bag, and its stunning aluminum chassis is just 0.44 in (11.3 mm) thick.
Inside you'll find a responsive keyboard and a 13.3 in display with a crisp resolution of 2560 x 1600. The slimline laptop's battery should last about 11 hours if you're using it for productivity tasks – fine for most workdays.
Impressively, the latest Air deploys the newer Apple M2 processor, which is fast enough to manage any mainstream photo editing workload. Apple says it's between 1.2 and 1.4 times quicker than the M1 chip that was used inside previous MacBook Air models. And when the MacBook Air M2 starts at $1,199 (opens in new tab)/£1,249 (opens in new tab), that's extremely impressive.
Of course, slim laptops do come with some inevitable compromises. The display does a great job with mainstream colors, but it can't go beyond the DCI-P3 gamut and you'll find more pixels elsewhere. The MacBook only has two Thunderbolt ports and no SD card slot. Upgrades are expensive, too: if you want the better graphics core you'll have to pay at least $1,499/£1,549, and upgrading from 8GB to 16GB of memory costs $200 or £200.
Still, the Apple MacBook Air M2 has impressive photo editing power in an unbeatably small design, so it's a great option for frequent travelers.
---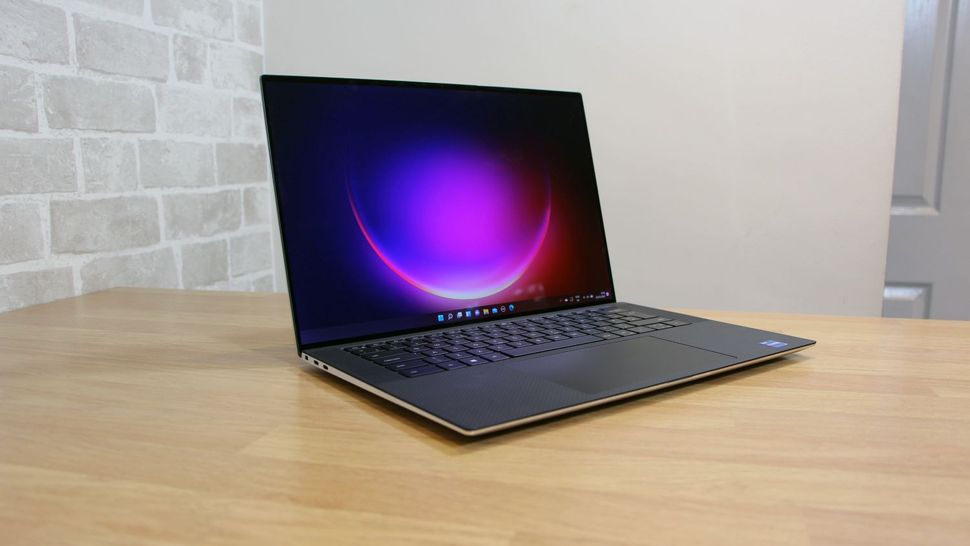 The Dell XPS 15 has long been a great alternative to the, and the hard-earned reputation continues with this latest model.
With its CNC-milled aluminum body, Dell's laptop looks and feels great, and is even lighter than the MacBook Pro 16. It's also got one of the best keyboards you'll find anywhere that is just a dream to type on all day. Plus, you also get all-day battery life, Thunderbolt ports, and an SD card slot.
The Dell XPS 15 is available with two IPS panels and one OLED option, and two of those have 4K-level resolutions. All have superb quality, and all use the 16:10 aspect ratio to deliver a bit of extra space.
On the inside, the XPS comes with Intel Core i5, i7, and i9 processors. The i5-12500H is ideal for everyday photo editing, the Core i7-12700H is great for most professional tasks and the Core i9-12900HK will handle almost every creative workload. Core i5 models start at $1,249, (opens in new tab)/£1,549 (opens in new tab), the Core i7 rigs arrive at $1,899 (opens in new tab)/£1,849 (opens in new tab), and the Core i9 laptop costs at least $2,349 (opens in new tab)/£2,249 (opens in new tab).
It's available with loads of memory and storage options, and Nvidia's graphics chips are faster than Apple's equivalent GPUs.
On the downside, the Dell omits HDMI and full-size USB connectivity, and the MacBook Pro 16 has better battery life. And while the Dell XPS 15 is usually cheaper than the MacBook, it's hardly affordable – especially if you upgrade the components 
Still, the Dell XPS 15 has power, style, and quality, and it's our top choice if you want a MacBook-style rig while sticking with Windows.
---
Few laptops are designed with photo editing and creativity in mind quite like the Asus ProArt Studiobook 16.
Ease open the sturdy lid and you'll find one of the world's most innovative laptop displays. The 16 in panel uses glasses-free 3D technology to add an extra dimension to imagery, and its OLED internals, 3200 x 1200 resolution, and 16:10 means you've got plenty of space for precise photo editing work. It renders every mainstream image gamut, including DCI-P3 and Adobe RGB. There's hardly any photo editing task that this screen can't handle.
Below the display you'll find the Asus Dial, which is a bespoke controller that delivers extra functionality in Adobe tools – including Photoshop and Illustrator. Elsewhere, the ProArt's chassis supplies loads of ports, an SD card slot, and a nice keyboard with an excellent layout.
On the inside, this rig is available with the Intel Core i9-12900H processor and superb Nvidia graphics chips. A forthcoming model upgrades the internals to an Intel Core i9-13980HX processor and RTX 4070 graphics core. The older devices remain powerful enough for most photo editing scenarios, while those newer parts are great if you want a desktop replacement notebook with as much power as possible.
Negatively, though, don't expect great battery life from this machine – this is no MacBook, so expect four hours – and at 5.29 lbs (2.4 kg) it's relatively heavy.
The Asus ProArt Studiobook 16 isn't cheap, either. You'll have to pay at least $2,999 (opens in new tab)/£2,999 (opens in new tab) for an i9-12900H version, and the newer model with the 3D screen and upgraded internals will probably cost even more.
For that money, though, you get a powerful, specialist bit of kit that's laser-focused on photo editing. It's a superb investment.
---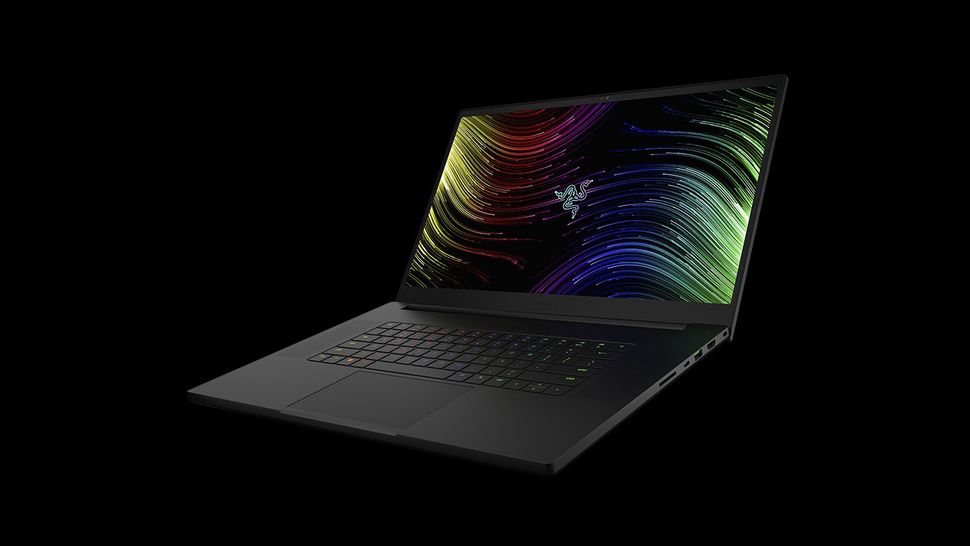 Few laptops straddle the gaming and creative worlds like the Razer Blade 17, and there's plenty to like about the only rig in this round-up to deploy a 17.3 in display.
For starters, that sizeable screen handles the sRGB, DCI-P3, and Adobe RGB color gamuts, so it's got the ability to render everything you'll need for photo editing – and it's available in three different resolutions.
Under the hood, Intel's Core i7-12800H and i9-12900H processors are both well-suited to creative workloads. Nvidia's GPUs add gaming and high-end graphics ability, too, and 32 GB of RAM is available.
Around the Razer's edges you'll find 2.5Gbps Ethernet, Thunderbolt 4 ports, HDMI 2.1, and an SD card slot. The keyboard is excellent – if a little shallow – and the trackpad is similarly impressive. There's also a 1080p webcam with Windows Hello facial recognition, and the black aluminum unibody design pairs style with strength.
There are some negatives, one being that the battery will barely see you through until lunchtime. Also bear in mind that the screens, while striking, are not OLED. The pricing is prohibitive, too: the cheapest Core i7 rigs costs $2,799.99 (opens in new tab)/£2,899.99 (opens in new tab) and the most affordable i9-12900H laptops sit at $3,399.99 (opens in new tab)/£3,399.99 (opens in new tab).
There's also a case for holding off, too, now that Razer has announced its Razer Blade 16 (opens in new tab) and Razer Blade 18 (opens in new tab) laptops. Both feature bolder Mini-LED displays, Intel 13th Gen processors and Nvidia 40-series graphics cores.
If you don't want to wait, though, there's no denying that the Blade 17 delivers big-screen quality, photo editing power, and plenty of connectivity inside a rig that's equally comfortable with work and play.
---
Microsoft's laptop stable has grown increasingly impressive over the past few years, and the Surface Laptop Studio is the best option from the range if you'd like a photo editing laptop.
Its innovative hinged design makes it easy to use this rig for stylus-based sketching and tablet-style touchscreen work, and the stylus is precise and reliable. Not only that, but the Surface supplies a satisfying, comfortable keyboard and decent trackpad.
The 14.4 in IPS panel is bright, smooth, and does a tremendous job with the sRGB color gamut – and its 2400 x 1600 resolution means images are pretty crisp. It can't tackle the DCI-P3 or Adobe RGB gamuts, but that's too much to ask at this price and this screen is still easily good enough for mainstream editing.
Similarly, the Core i5-11300H and i7-11370H processors are well-suited to everyday tasks, even if you'll find loads more power elsewhere. There's 16 GB of memory, and the Core i7 models also have Nvidia GeForce RTX 3050 Ti graphics for extra creative processing ability.
In terms of battery life, the Microsoft Surface Laptop Studio lasts about eight hours, which is fine, but not brilliant. Microsoft's machine has Thunderbolt 4 ports and a Windows Hello webcam, but there's no room for an SD card slot. And while it's not heavy, its 3.83 – 4 lbs (1.74 – 1.82 kg) weight isn't particularly svelte, especially when compared to the likes of the MacBook Air M2.
Still, prices start at $1,599 (opens in new tab)/£1,449 (opens in new tab), and that's a fair price for a notebook with a versatile touchscreen, slick design, and high-resolution screen. You'll find more power, longevity, and connectivity elsewhere, but the Microsoft Surface Laptop Studio's unique screen may make it a winner for your workflow.