Resident Evil 4 is perhaps the most highly anticipated remake of the year – and it's not hard to see why, promising a full redesign of a highly decorated game with a ton of new content and reworked mechanics. It's an excellent-looking game too with fine-grained indirect lighting and attractive artwork. However, recent Resident Evil titles have suffered from awkward configurations on consoles with uncapped frame-rates and unimpressive ray tracing support. The RE Engine itself is powerful enough, but the deployment of its high-end features has raised some questions. So is Resident Evil 4 a step up from those prior efforts or does it repeat the sins of the past?

This is a technically dense game with a lot of interesting and bizarre technical minutiae, so let's try to keep it brisk. All current-gen consoles pack a frame-rate mode and a resolution mode, plus some other toggles that we'll address shortly. Both options target 60fps but image quality differs quite a bit – and not really in the ways that you'd expect. Series X, for its part, is pretty well-behaved.The frame-rate mode hits roughly 1800p and the resolution mode comes in at 2160p. The game appears to use a form of reconstruction to hit that output – very likely checkerboarding, based on the game's artifact patterns and the use of the technique in recent RE Engine games – and the results here are serviceable. The resolution mode is a bit clearer, though both options hold up pretty similarly at a typical viewing distance, especially given the dark and low-contrast game content which tends to suit a less precise look just fine.

The PS5 looks substantially blurrier in head-to-heads relative to Series X, although curiously, pixel counts in frame-rate mode actually seem higher, coming in at around 1944p, while the resolution mode clocks in at the same 2160p as its Xbox equivalent, again with checkerboarding engaged. Across opaque surfaces, the game has a slightly smeary representation of fine detail across both visual modes. More concerning though is the breakup on transparencies – when Leon's hair is moving, for instance, it has an aliased, half-resolution look, while Series X stays relatively coherent and free of jagged edges.

I think something is amiss with the checkerboarding on PS5 that is creating issues here. Any scene with foliage is a bit of a noisy mess and SSAO shimmers quite a bit as well. It's not uniformly bad to be fair, and a lot of scenes look perfectly fine – it's really just that resolve on transparent elements that is needs some work.

This becomes especially clear when we look at Xbox Series S. Despite rendering at lower resolutions – a 1080p resolution in frame-rate mode, with a 1440p pixel-count in resolution mode, again with what looks like a checkerboard reconstruction – Series S has about the same amount of aliasing on fine transparencies like hair as the PS5 release. The console expectedly is a bit soft but it otherwise looks fine considering the hardware. Outside of image quality, there are a handful of odd differences that separate these modes. Series S takes a hit in texture quality in spots, which seems fairly minor in most instances in the resolution mode.

Resident Evil 4 on current-gen consoles uses a mix of cubemaps and screen-space reflections to represent reflections by default. The SSR is drawn all the way to the bottom of the screen – occlusion issues be damned! – and there's often a big difference in colour between the SSR and the underlying cubemap. However, if you turn on the resolution mode on Series X or PS5 and keep RT off, the SSR no longer seems to be present. It's a baffling issue. To be honest, the low-quality SSR mostly detracts from the visuals, so I'd prefer that it was removed entirely from the game on consoles – or at least another option to toggle. Finally, there is an option for 'lens distortion with chromatic aberration', which softens and distorts the image on all platforms and is enabled by default. I'd advise turning this off regardless of the platform you're playing on, but PS5 seems particularly heavily affected, with an especially soft and low resolution resolve.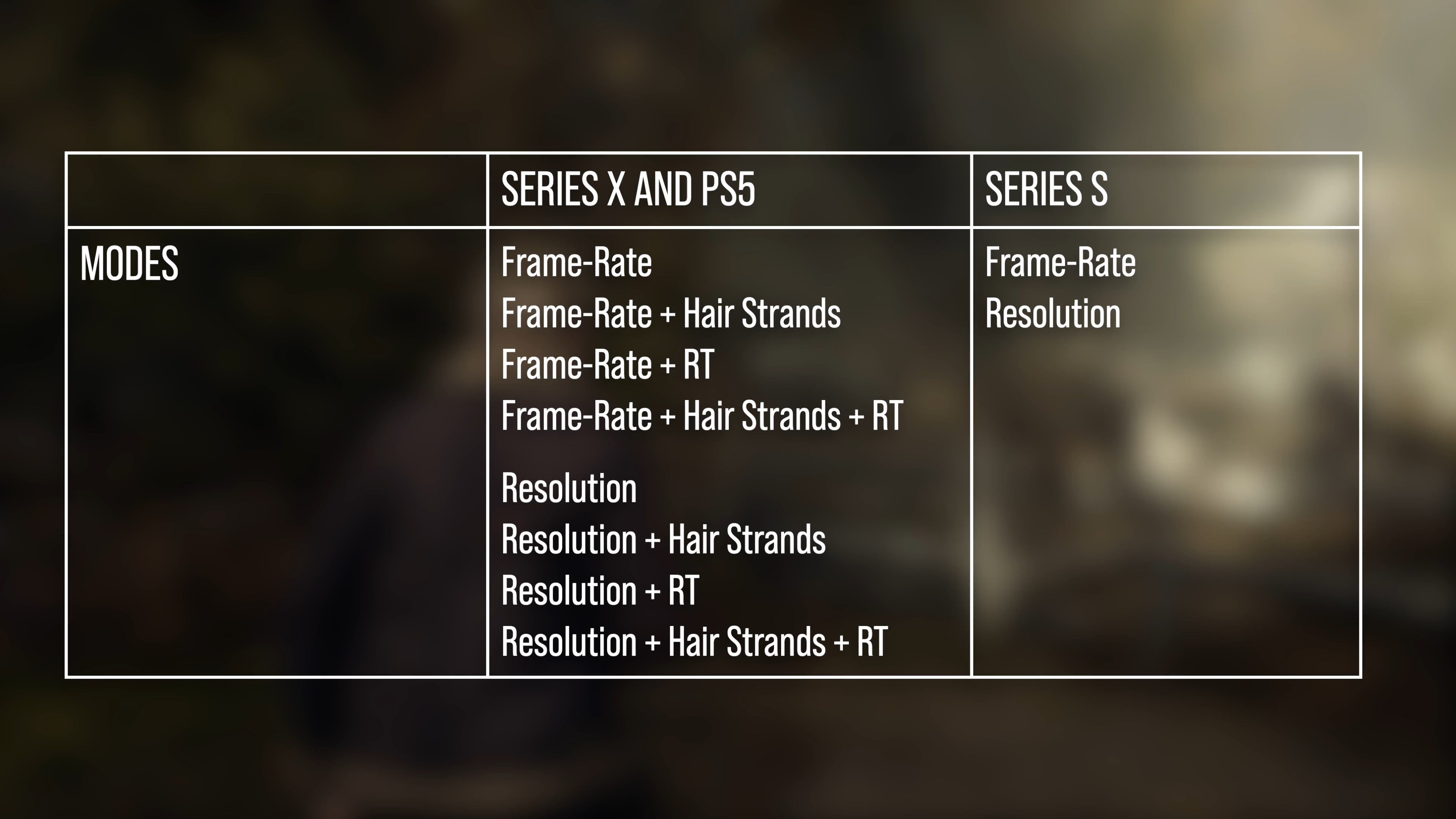 There are two additional options on PS5 and Series X – an option to enable strand-based hair, and an toggle to enable ray-tracing, bringing those consoles to an effective total of eight visual modes. The hair strands option should really be skipped over: the card-based hair used by default actually has a more detailed appearance and is more realistically shaded with a glossy look that suits Leon's smooth straight hair. The strand-based hair has a matte appearance instead, which feels less plausible given his hair characteristics and clashes with representations of Leon in other media and can suffer from odd lighting in some circumstances as it often looks too bright. If you look closely, the hair cards have more limited and uniform movement than the strand-based hair, but otherwise, the more compute-heavy option seems less attractive overall.

Ray tracing, in contrast, does improve the game's presentation, though it's not a slam-dunk win. Unlike recent RE titles which also feature RT global illumination, this option appears to offer only RT reflections, which have a limited impact on the overall visuals. Bodies of water usually look more realistic, though I did note some off-putting issues occasionally at a distance. The effect appears to render at a low resolution, and is only enabled on a very limited number of surfaces. I couldn't spot its use anywhere but on water. Series S doesn't seem to feature either the hair strands or ray-tracing graphical options, as neither are noted in the game's menu. However, toggling the resolution mode on does turn on ray-traced reflections, albeit at a very low resolution with no option to turn it off. Again, Resident Evil 4 is just chock-full of strange and undocumented visual issues.

In terms of performance, Resident Evil 4 operates on a sliding scale, with frame-rates dropping further the more visual toggles you enable. The game essentially operates with unlocked performance if you run it with anything but the default frame-rate mode with no options toggled. However, that's not to say that the default mode is perfect. Looking at Series X first, the game frequently drops frames, particularly in larger fights, like the demanding village encounter towards the start of the game. It's mostly 60fps, but the drops are noticeable. Resolution mode basically runs uniformly worse, often hitting frame-rates in the low-to-mid 40s, while turning everything on will degrade performance to the mid 30s at worst in tougher shots. It's a pretty unimpressive turnout, and there's no frame-rate cap to engage to keep things consistent.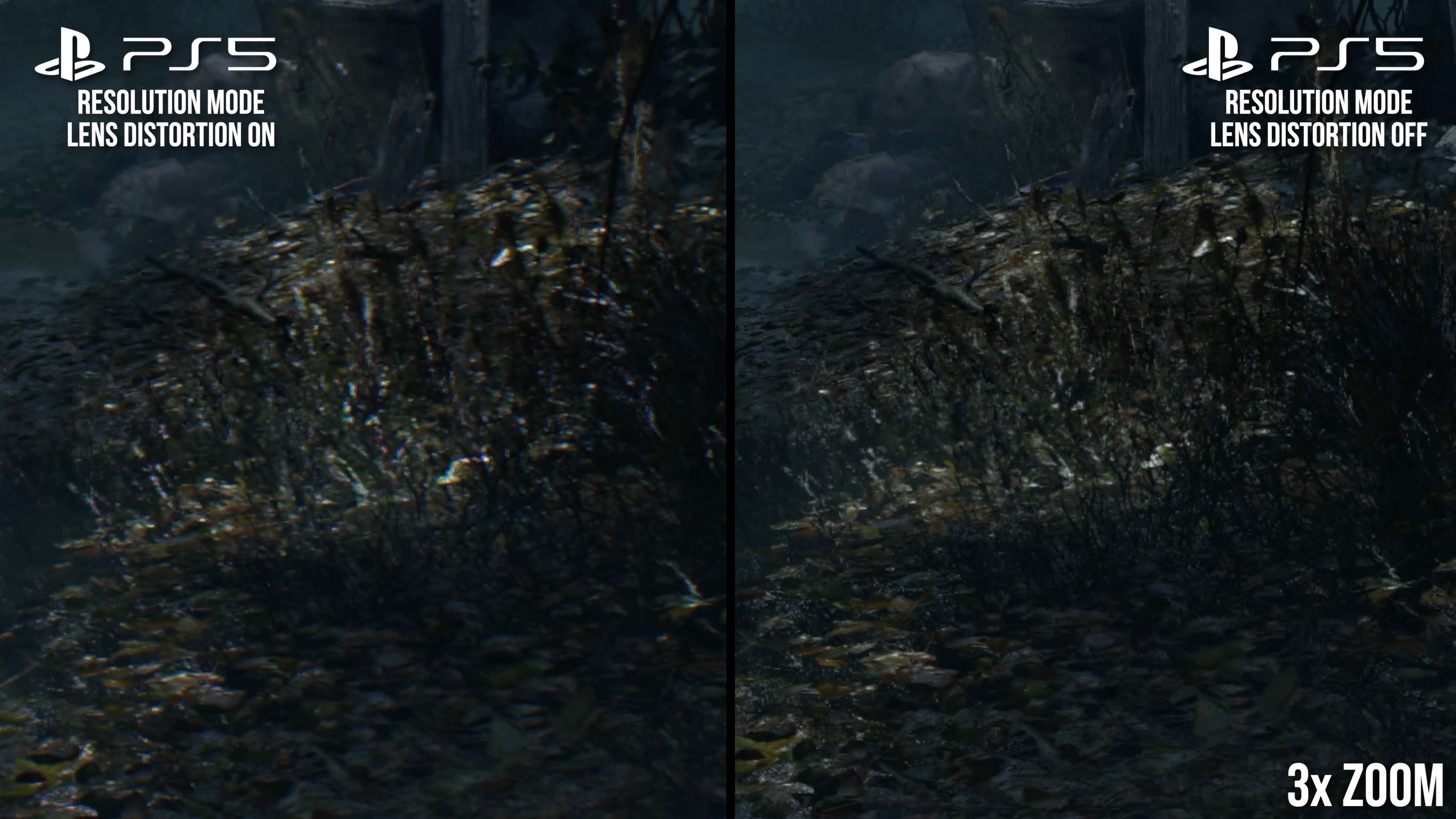 PS5 is much the same, but the overall frame-rate is higher than the Series X equivalent. The village fight only suffers a few significant drops in the frame-rate mode for instance. The resolution mode bottoms out in the high 40s and the all-dressed option hits the low 40s. It's not great, but it is a noticeably better performer. Series S runs worse than either of the two premium machines. The frame-rate mode spends extended periods between 50fps and 60fps and the resolution mode bottoms out in the low 30s – although the resolution mode on Series S packs RT as well as I mentioned earlier. There are only two modes here – not the eight modes of the other platforms – although only the frame-rate mode feels OK in typical gameplay.

My recommendation for most players would be to stick with the default frame-rate mode on current-gen machines, perhaps toggling ray tracing on or moving to resolution mode if you have a VRR display and are fine with slightly lower performance. Xbox players have more latitude to push visual fidelity, given the consoles' larger VRR windows at 120Hz output, but those options still come at a noticeable cost to fluidity. I'm not really happy with the performance on display here or the complicated visual options, which should probably have been simplified to a 60fps mode and a 30fps mode with additional resolution and visual features. The game just doesn't have a very console-like configuration in its current state.

Plus, performance in the frame-rate mode on PS5 and Series X is still below expectations and Series S suffers further still. Even if Capcom doesn't untangle the mess of visual options here, the developer should tackle the frame-rate problems that plague even the game's fastest-running configurations. In addition to these issues, I did notice some occasional visual bugs – like problems with the water surface and some oddly-lit textures, both of which popped up on Series X in my testing, with both shown in the video embedded up top.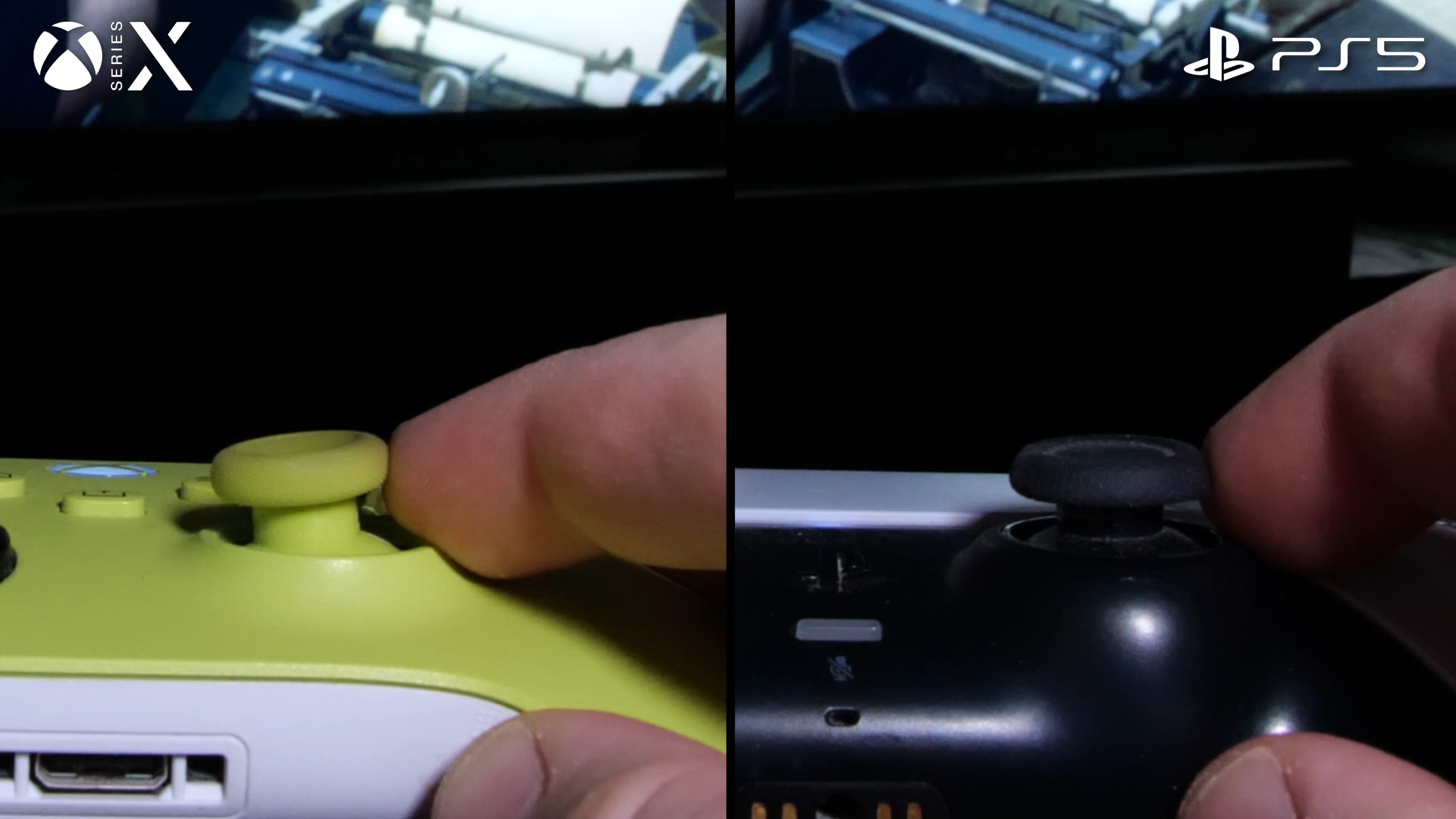 Resident Evil 4 also suffers from issues with controller response on Xbox as the Series consoles have an absolutely massive deadzone that makes the game feel strange and sluggish. I have to push the right stick about 40 percent through its range of motion to get any feedback on-screen whatsoever, whereas on PS5 I barely have to move it at all to get a response. Neither platform feels perfect and the game has a slightly laggy feel in general, but the Series machines seem to have a big configuration issue on top of that which should be addressed.

Despite my complaints about the way Resident Evil 4 has been delivered, there's no doubt that it's an excellent-looking title, which did leave me in doubt about last-gen consoles. Capcom is only shipping the game on PS4 and PS4 Pro, skipping the Xbox One platforms perhaps owing to performance concerns, or maybe simply down to return on investment. So can the base PS4 really deliver this level of visual complexity in a cross-gen game? It's a bit complicated. On the one hand, the basic visual feature set seems fairly close. Just running around the gameworld, everything looks about as it should. It's actually an impressive effort on PS4 taken on the whole, with solid visuals considering its cross-gen origins.

However, on closer inspection, there are some inevitable cutbacks. Firstly, texture resolution has been cut down across the board, with much lower-res artwork on PS4. Most surfaces look quite a bit less detailed on the last-gen machine. Texture streaming also suffers on PS4. It often takes about 10 seconds for higher-resolution texture assets to swap in with low-resolution placeholders in place for that duration. Even when the final assets are in place the results aren't great, but it does seem like the PS4's limited CPU and storage resources are throwing up some unexpected issues here.

Lighting also gets an understandabledowngrade. Indirectly lit scenes sometimes look very different with less detailed GI, which is especially noticeable outdoors. I did note that dynamic lights sometimes didn't cast shadows on PS4 in places where current-gen consoles do exhibit shadows as well, although not all light sources are shadow-casting on the more powerful machines either. There doesn't seem to be any screen-space reflections on PS4 either and sub-surface scattering is absent as well.

On top of that, foliage on PS4 is static and doesn't seem to bend with the movement of the wind at all. Current-gen platforms have effective, if often subtle, foliage animation that is completely absent on PS4, which does stick out in outdoor game areas. Enemies also suffer from animation issues, with foes at a distance running at reduced animation rates in order to reduce the CPU burden. The opening village fight is a good example, with a heavy use of half-rate animation. This was a common concession in prior Resident Evil games on consoles, but it seems especially obvious here.

Finally, resolution gets cut back to 1600×900 in the PS4's sole visual mode, though it doesn't seem to use reconstruction. Image quality is surprisingly respectable as a result, with a reasonable resolve on fine details. PS4 Pro is comparable to PS4 with similar visual cutbacks. Resolution clocks in at about 972p in the frame-rate mode, though the resolution mode seems to get bumped to a full 4K checkerboard. Resolution mode also gets somewhat denser foliage, though this is only really noticeable in side-by-sides.

PS4 has an unlocked frame-rate, just like the other console versions. The general run of play operates between 35fps and 50fps, so it tends to feel unstable. PS4 Pro's frame-rate mode is usually 60fps, but does drop in heavier moments, similar to the Series X. The Pro's resolution mode is the worst performer yet. The game is often hugging 30fps, with occasional dips to the 20s (this does zip up to 60fps if you fancy playing the PS4 Pro version on PS5!). The last generation PlayStation consoles definitely hand in a substantially compromised Resident Evil 4 experience – but the game is still playable and attractive enough on its own terms.

In summary, Resident Evil 4 is an excellent game and a very good-looking title that is unfortunately held back by issues with the basic game configuration. All of the issues from prior RE Engine console games seem to have returned here, alongside a convoluted set of visual options and other problems. Expect reconstruction artifacts, sub-60fps performance with no 30fps cap option, visual glitches, a strand-based hair option that looks worse than the default, image quality issues on PS5, very limited RT, poor and inconsistent option documentation, ugly screen-space reflections and controller response problems.

That's the bad news. In its favour, Resident Evil 4 is a solid game and there is a lot of visual accomplishment on display. It's just a shame that there are so many smaller issues – many of them completely unexpected and very strange – that dampen the overall experience. There's the sense that the fundamentals are there and that maby of the inconsistencies, bugs and oddities could be improved via title updates, so fingers crossed that we see some extra polish on this otherwise excellent game further on down the line. In the meantime, Digital Foundry coverage continues with a look at the PC rendition of the game – including optimised settings – next week.

To see this content please enable targeting cookies.