The Consumer Electronics Show remains a singular event for PC laptop enthusiasts. Aside from Dell, which ditched the show in recent years, every major PC laptop maker is present, and most use it to reveal their best and brightest for the coming year. AMD, Intel, and Nvidia also come packing new mobile hardware heat. Dozens of powerful laptops were revealed this year—but these 10 stood out from the crowd.
Further reading: The Best of CES 2023 and the 10 best monitors of CES 2023
Acer Swift X 14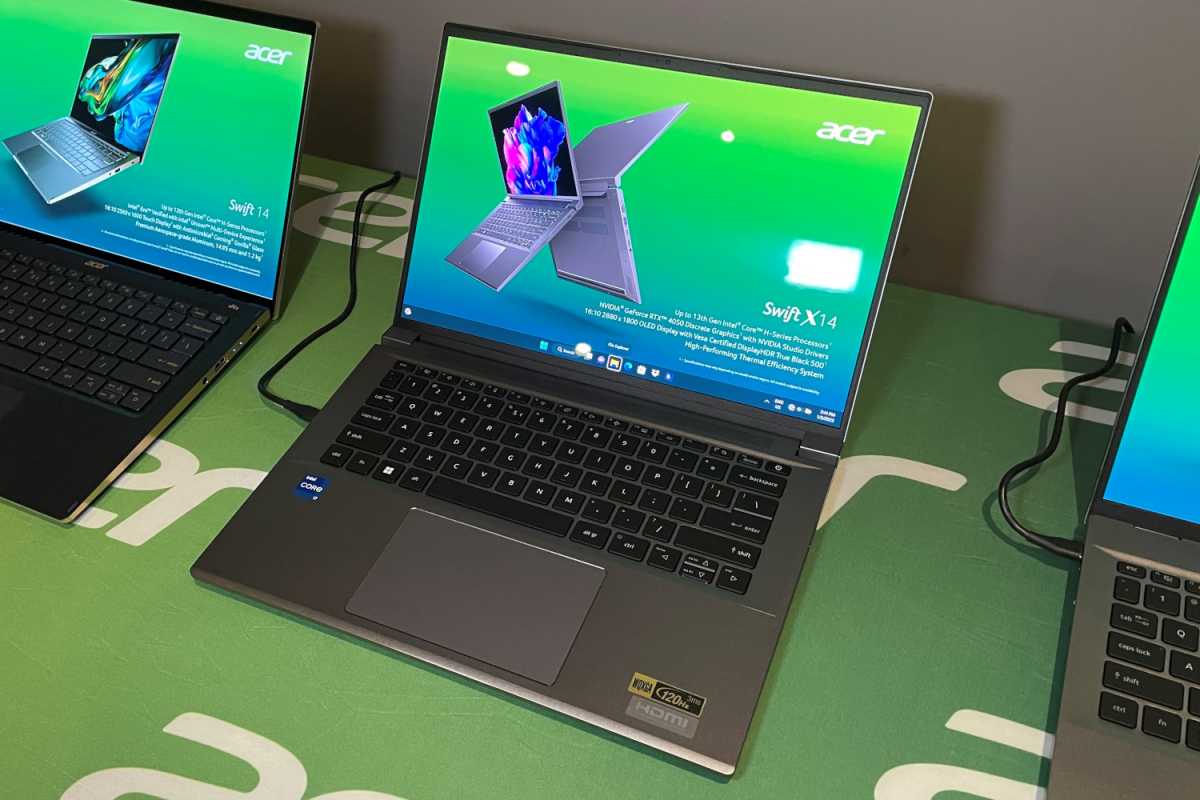 Matt Smith/IDG
Arguably the least glamorous laptop on this list, Acer's Swift X 14 still showcases key trends of CES 2023: the broad reach of OLED displays and newer, quicker hardware from Intel and Nvidia.
Let's talk display. The Swift X packs an optional 14-inch OLED screen with 2,880 x 1,800 resolution and a refresh rate of up 120Hz, as well as VESA DisplayHDR 500 certification. It's a truly gorgeous screen. And though not a massive laptop, the Swift X 14 finds room for Nvidia RTX 4050 discrete graphics and Intel's new 13th-gen Core H-Series processors. A high-resolution 1440p webcam is thrown in for good measure.
Pricing is what seals the deal. The Swift X 14 will hit stores in April starting at $1,099.99. That's great value and positions the Swift X 14 as a budget alternative to more expensive 14-inch workstation and gaming laptops.
Acer Predator Helios 300 Spatial Labs Edition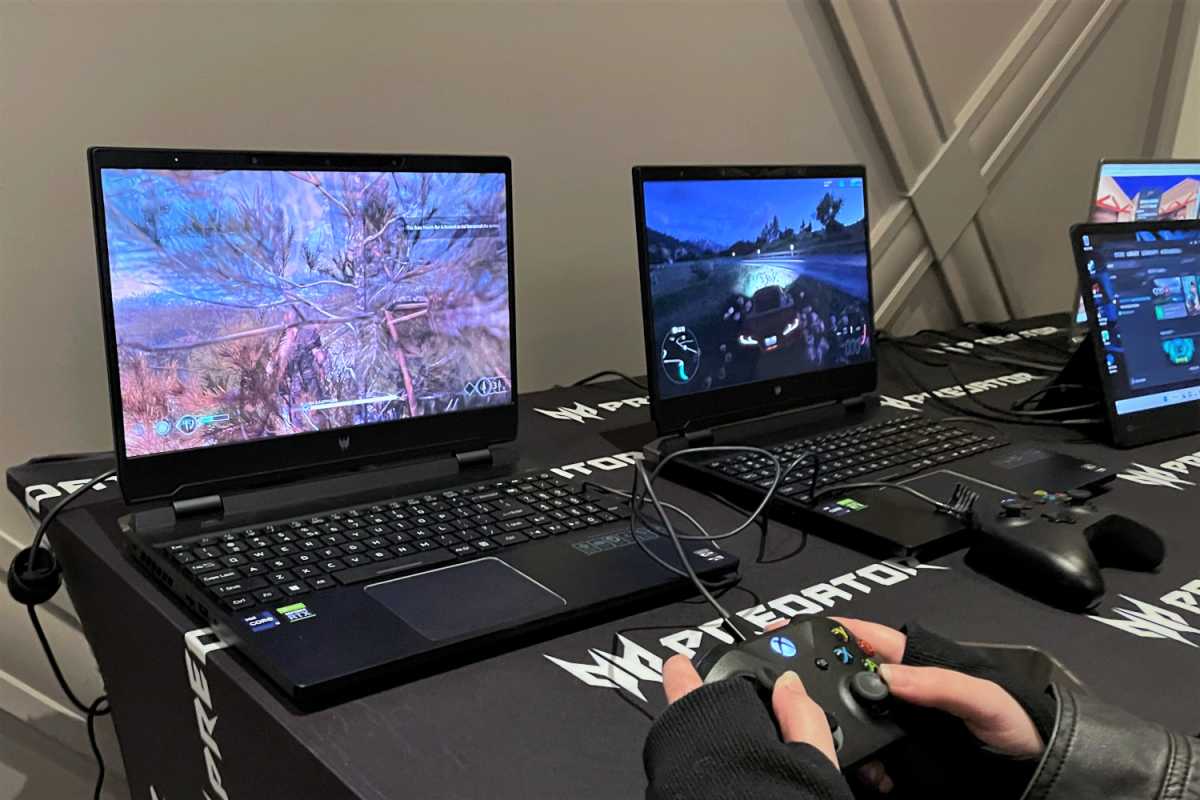 Matt Smith/IDG
Acer SpatialLabs View PCs offer glasses-free 3D on LCD screens—a bit like Nintendo's 3DS, but larger, and at a much higher resolution. Initially targeted at professional use, Acer brought SpatialLabs to gamers with the Predator Helios 300 SpatialLabs Edition.
Technically, the laptop itself isn't new. What's new is SpatialLabs TrueGame's 3D Ultra mode, which mitigates problems earlier versions of the technology encountered (interface elements and text were sometimes blurred or didn't appear with a correct sense of depth). I had a blast playing Forza Horizon 5 on the SpatialLabs display. The glasses-free 3D effect is convincing—I felt as if I was playing with a fantastic slot car set or guiding a ludicrously fast RC car.
Now, I know what you're thinking: will it work with my favorite game? You can check for yourself on Acer's SpatialLabs' website.
Asus ProArt Studiobook 16 3D OLED
Matt Smith/IDG
Asus' is getting in on glasses-free 3D, as well, with the ProArt StudioBook 16 3D OLED. It has a 16-inch 3.2K OLED screen with a maximum refresh rate of 120Hz and, like Acer's Predator Helios 300 SpatialLabs Edition, can deliver glasses-free 3D with the flip of a switch.
The experience is similar to that provided by Acer, as both rely on technology built by Dimenco. Asus' OLED display does offer some benefits, however, with better contrast and excellent color gamut. I saw both at CES and found Asus' image quality superior. Asus seems to be a step behind Acer in game compatibility, though, instead focusing more on professional use.
The ProArt is a real powerhouse, too. It boasts Intel's 13th-Gen Core H-Series processors, Nvidia RTX 40-series graphics, and up to 64GB of memory. It also has dual Thunderbolt 4 ports for connecting multiple bandwidth-intensive peripherals and a "dial" control, which lurks near the touchpad, for quick and easy scrolling through video timelines or color palettes.
The Asus ProArt Studiobook 16 3D OLED will arrive in Q2 2023. Pricing isn't announced.
Asus ROG Zephyrus G14
Matt Smith/IDG
Several Windows laptop makers came to CES 2023 boasting laptops with Mini-LED displays, but Asus' ROG Zephyrus G14 is the smallest. This compact 14-inch laptop, which was already among the best compact gaming laptops available, has found room for a vibrant Mini-LED screen that delivers over 600 nits of brightness and a refresh rate up to 165Hz.
The ROG Zephyrus G14 also delivers the top-tier hardware expected from the Zephyrus model line. This includes up to AMD Ryzen 9 processors and up to Nvidia RTX 4090 series mobile graphics. It also supports USB-C charging up to 100 watts even has a 1080p HD webcam with support for Windows Hello facial recognition login. And, yes, Asus' LED matrix display lid remains, letting you show off jazzy animations to anyone nearby.
Asus will announce pricing closer to release, which should be in Q2 of 2023. 
LG Gram Style (16 and 14)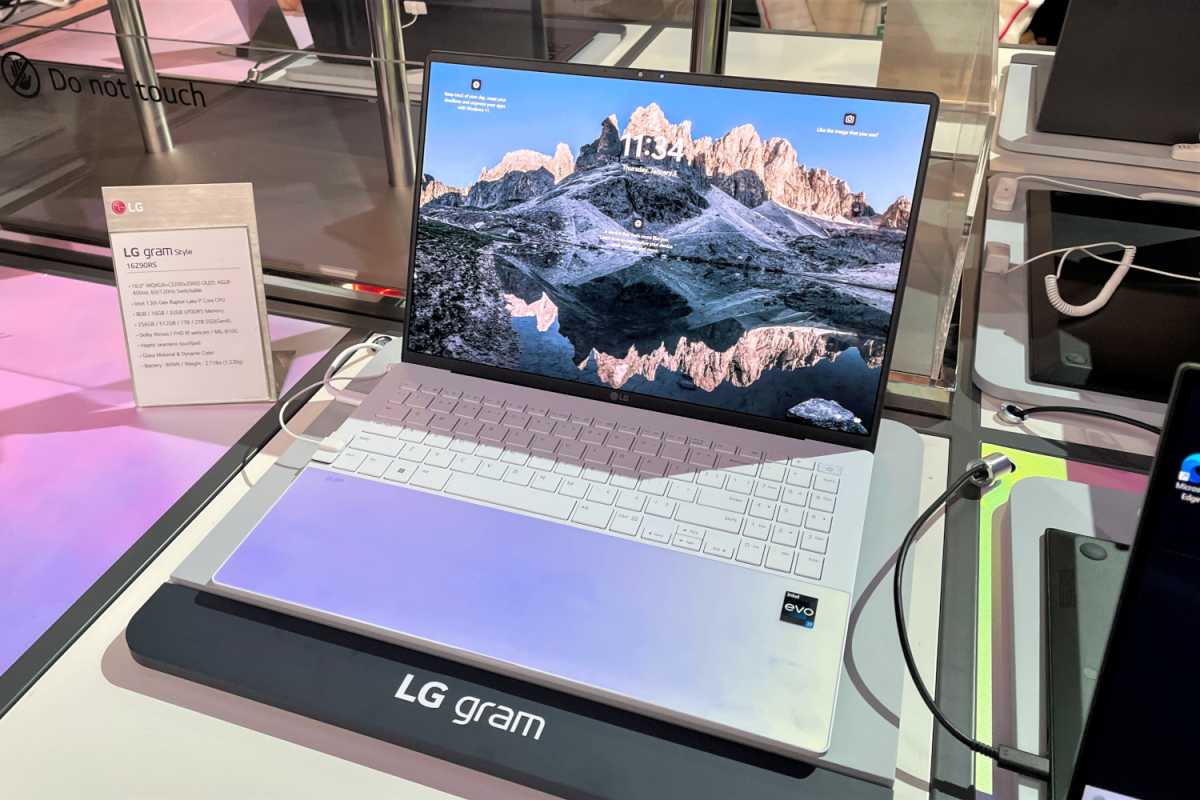 Matt Smith/IDG
LG's feathery Gram laptop line has long been among the lightest available, but now they have style. Seriously! It's in the name!
The Gram Style does look quite ravishing with optional pearl iridescent finish. It's attractive, but not so flashy that it becomes garish. Looks aside, the Gram Style maintains the slim appeal of its predecessors. The 16-inch model weighs about 2.7 pounds, while the 14-incher is only 2.2 pounds, and both measure a tad more than six-tenths of an inch thick.
They're well equipped, too, with Intel 13th-gen Core P-Series processors, up to 1TB of solid-state storage, and up to 32GB of RAM. The 16-incher has a beautiful 3,200 x 2,000 OLED display with a refresh rate up to 120Hz, while the 14-incher has 2,880 x 1,800 OLED screen that refreshes at up to 90Hz.
LG says the new Gram line, including the Gram Style, will launch next month, but pricing is not yet available.
Lenovo ThinkBook p16 Gen 4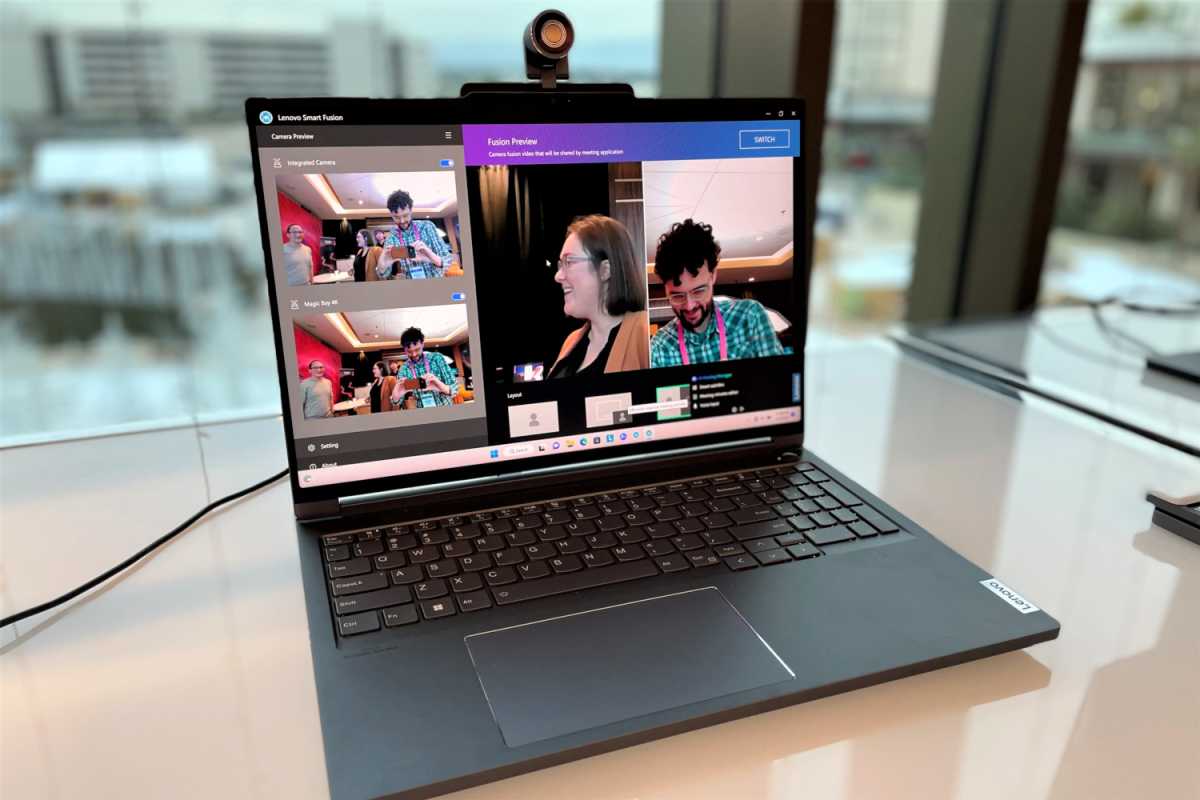 Matt Smith/IDG
The Lenovo ThinkBook p16 has a little bit of magic. A Magic Bay, to be precise. That's Lenovo's name for a magnetic connector on the top of the display that supports accessories like a webcam, LED light, or 4G LTE modem. The webcam accessory is the start of the show, with 4K resolution at 30 FPS, a 270-degree mount, and built-in privacy shutter.
But the Magic Bay isn't the only reason to like this laptop. It's a durable, attractive, and powerful laptop boasting Intel's 13th-Gen Core H-Series processors, Nvidia RTX 40-series mobile graphics, and up to 32GB of RAM. This is a classic all-rounder, capable of day-to-day productivity, photo and video editing, programming, gaming, and just about anything else you can throw at it. 
It's also competitively priced. Lenovo says the ThinkBook p16 will hit stores at $1,349 in May 2023.
Lenovo Yoga Book 9i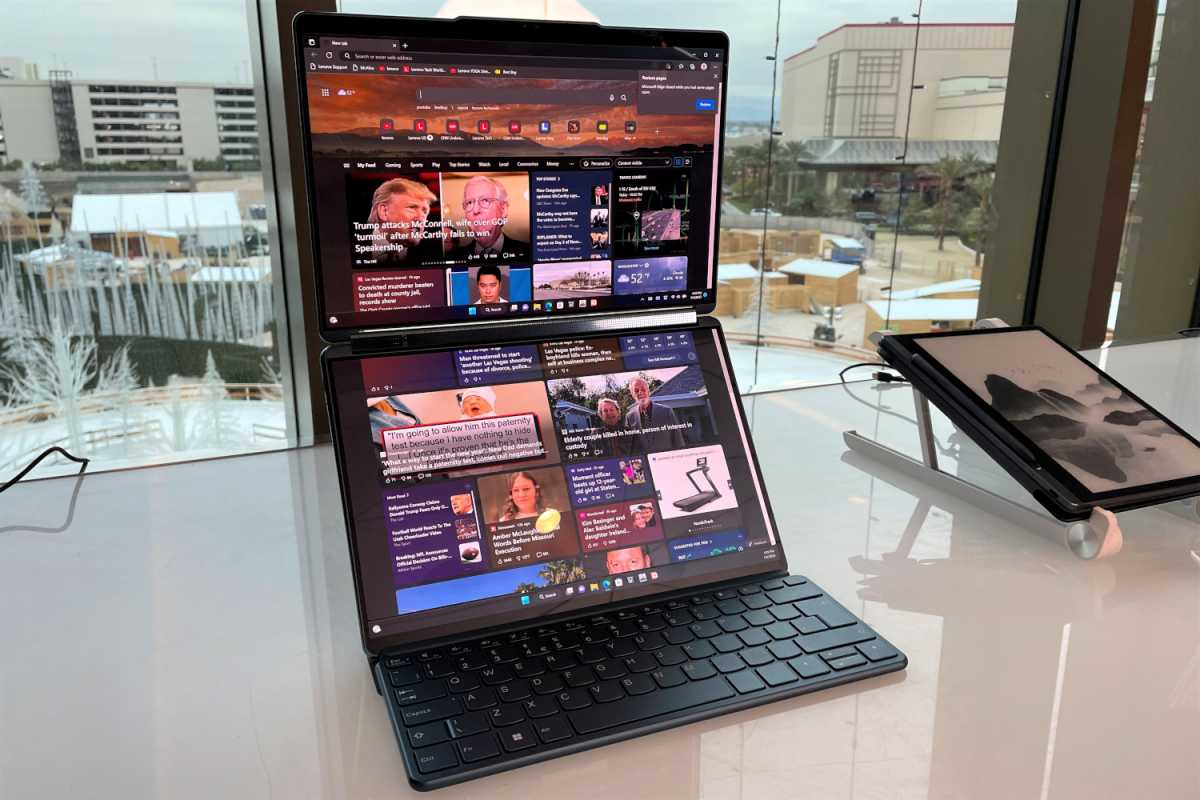 Matt Smith/IDG
I'll be honest: I burst out laughing when I first saw this laptop. The dual-screen Lenovo Yoga Book 9i looks a bit absurd in its vertically stacked configuration (can you imagine breaking it out at Starbucks?)
But it's no joke, and there's a lot to like. This is a beautifully sculpted, luxurious 2-in-1 laptop with two stunning 13.3-inch 2.8K OLED screens. They can be used vertically stacked or, more likely, side-by-side. The Yoga Book 9i also supports clamshell and tent modes with the optional to use a virtual keyboard on the lower display or a detachable physical keyboard. The internals include Intel 13th-gen Core i7 U-Series processors yet, surprisingly, the 2-in-1 weighs only a hair over three pounds.
The Lenovo Yoga Book 9i will arrive in June 2023 at $2099.99.
MSI Stealth 14 Studio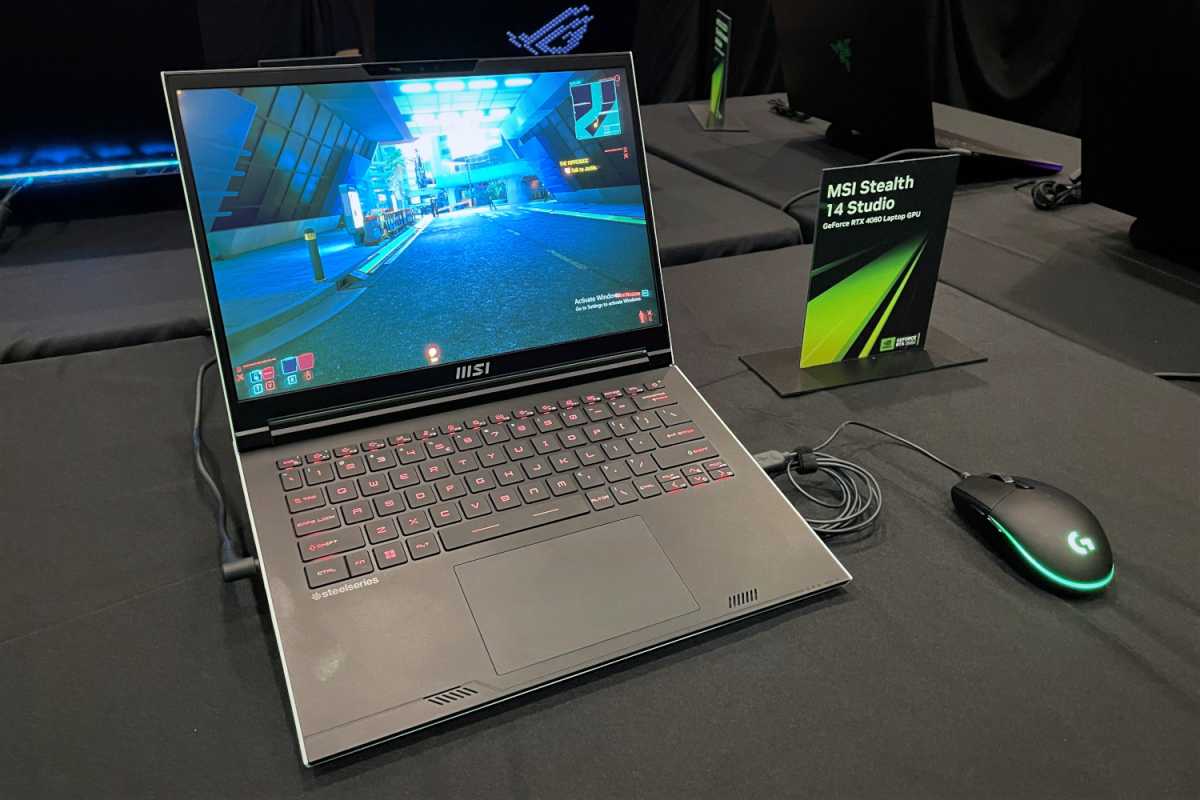 Matt Smith/IDG
The all-new MSI Stealth 14 Studio is a looker, sporting an (optional) two-tone vibe, slim design, and clever LEDs that spell out "Stealth" hidden in the fan vents. It also feels robust in-hand and has a 1440p, 240Hz IPS screen that seems a perfect fit for the laptop's hardware.
So, what's it packing? The Stealth 14 Studio has an Intel Core i7-13700H and equips Nvidia GeForce RTX 4060 and 4070 graphics. That's impressive performance for a laptop this size, and the laptop does seem to get toasty—but that's true of every compact laptop at CES 2023. The MSI can also equip up to 64GB of RAM and 2TB of solid state storage.
Pricing starts at $1,499.99 and pre-orders should go live later this month.
MSI Titan GT77 HX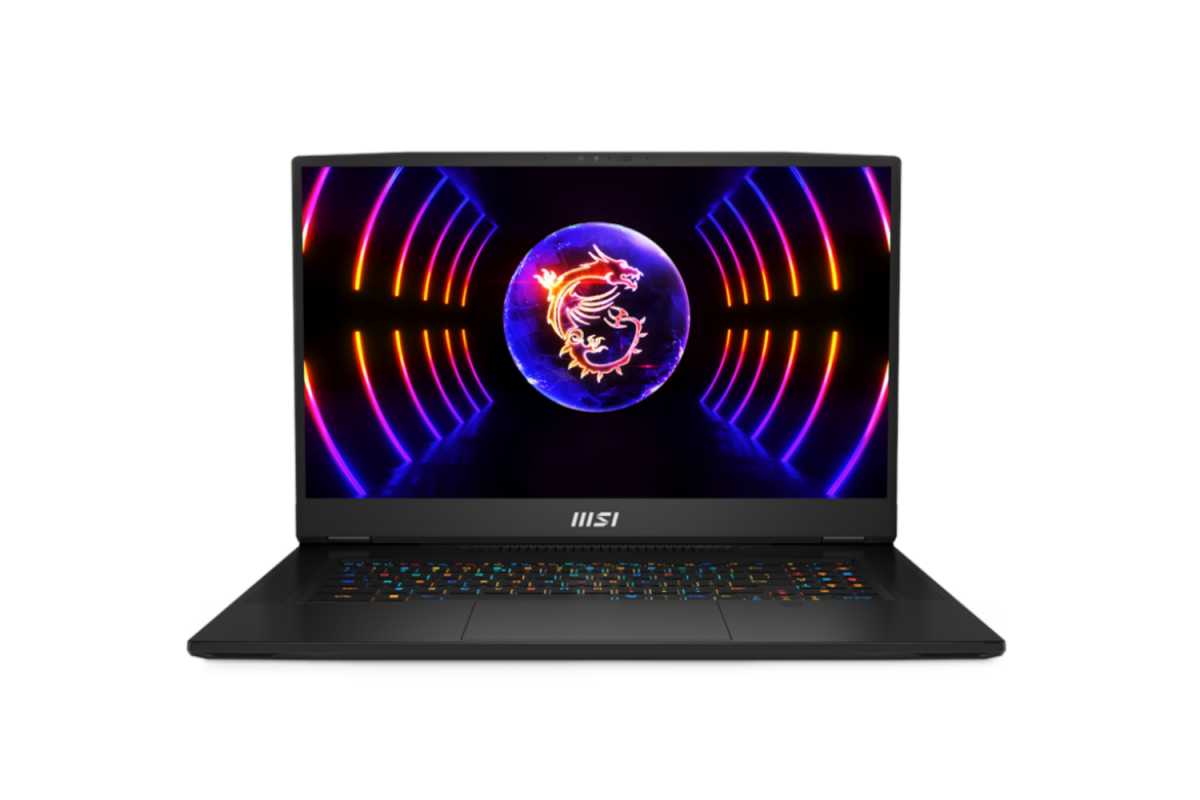 Matt Smith/IDG
Apple's Mini-LED displays give the MacBook Pro 14 and 16 an edge over Windows competitors with bright, vivid screens that pack an HDR punch. But MSI's huge Titan GT77 HX might finally have them beat. It delivers a 4K, 144Hz Mini-LED screen with VESA DisplayHDR 1000 certification, meaning it can hit a peak brightness above 1,000 nits.
Display aside, this laptop is a true powerhouse that leaps ahead of every other laptop on this list. It can be equipped with Intel's Core i9-13980HX, which delivers 24 processor cores, and Nvidia's RTX 4090 mobile. Memory tops out at 128GB of DDR5 RAM and storage support includes up to three PCIe solid-state drives.
The MSI Titan GT77 HX will start at $4,299 when it arrives later this year.
Razer Blade 18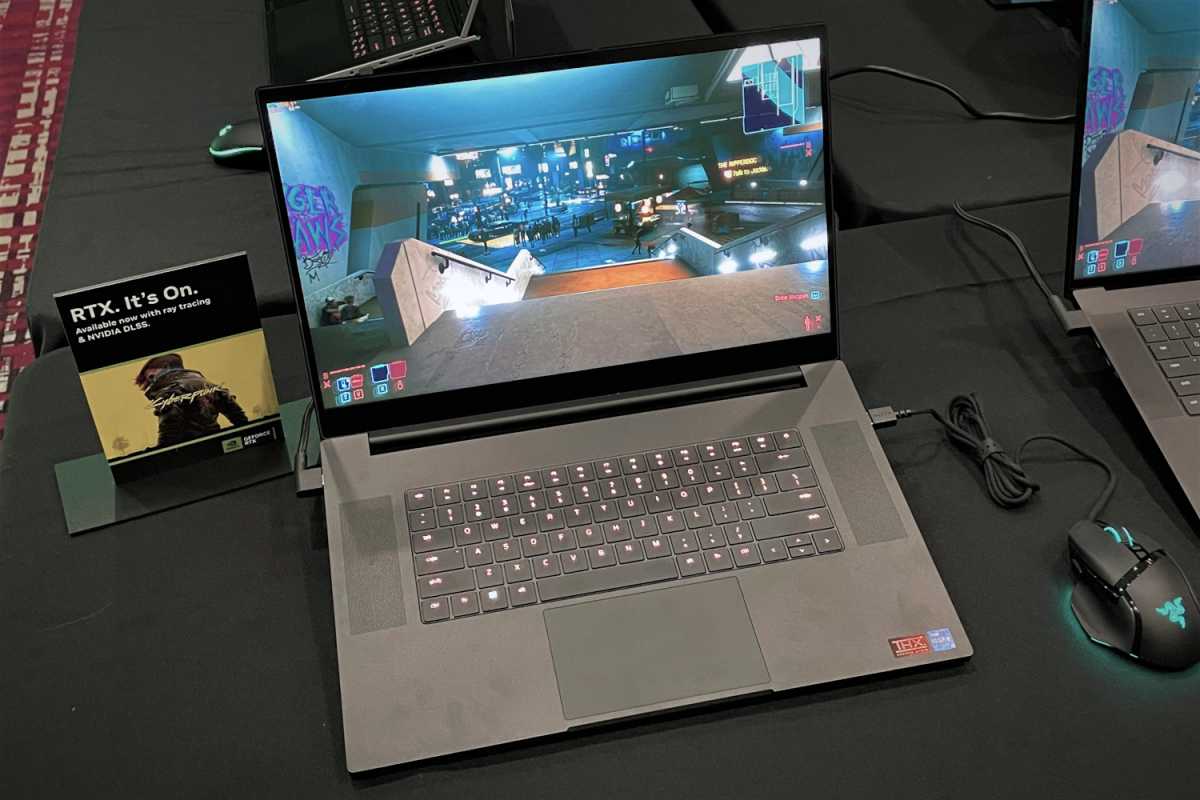 Matt Smith/IDG
Razer has jumped aboard the big laptop bandwagon with the new Blade 18, a massive machine that's just a bit less of a beast than its competitors. It packs a 18-inch IPS LCD display with 2,560 x 1,600 resolution and a refresh rate up to 240Hz, but weighs just a smidge over seven pounds and measures .86 inches thick. That's not tiny, of course, but it undercuts most competitors. And while the laptop is large, it can be charged using a relatively compact GaN charger (delivering 280 or 330 watts, depending on the Blade 18's configuration).
The Blade 18 otherwise sticks to Razer's tried-and-true formula for success. It supports the latest Intel 13th-Gen processors up to the Core i9-13950HX, as well as up to Nvidia RTX 4090 graphics. Memory stacks up to 64GB and storage up to 8TB, which should meet the demands of most professional creators. Despite its hardware and larger size, the chassis remains sleek and minimalist, and feels luxurious in-hand.  
Pricing is luxurious, too. Razer says the Blade 18 will start at $2,899.99 when it arrives in Q1 2023.